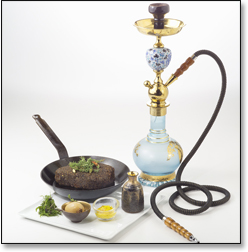 Even in a city with a virtually limitless array of dining options, some dishes are way too good to miss—they demand immediate consumption. Every month, our feature Served Up gives you the lowdown on a standout dish in the city. Dig in.
A little shisha is good for the soul.
Hence New York's first haute-cuisine
Hookah Tasting Menu
(they had us at "hookah").
The scene of this smoky feast is
Loft
on the Upper West Side (yes, good restaurants do exist there), where consulting chef Angelo Sosa (Jean Georges, Spice Market,
Buddakan
) gets busy with a pipe and some beef (now that's a job worth talking about).
Loft has a loungey Asian-Mediterranean vibe that suits the smoking—take a group to the table under the tree in the back, or head downstairs to the cushier, more private lounge. The four-course tasting menu (also available with wine pairing, for those who can't imagine smoking without drinking) starts off with a unique
Tuna Mole
(tuna with chilied tapioca and bittersweet chocolate) and
Butter Poached Maine Lobster
served in a pressurized jar. Then the hookah comes out for you to smoke throughout the remainder of the meal. Sosa's custom-made herbal
shisha
(what you smoke in the hookah) is non-nicotine and has a peppercorn kick, which enhances the courses without overpowering them (attempts to bring your own "custom-made herbal blends" are politely...discouraged).
Although you might get carried away with the hookah from this point on, stay on to enjoy the 16-ounce
Earth Scented Kobe Filet
(sounds like a cologne, eats like a steak), served with smoked corn brulee and a Taiwanese poached egg, and then finally a chocolate dessert sampler.
With a meal like this, you'll be proud to say you inhaled.