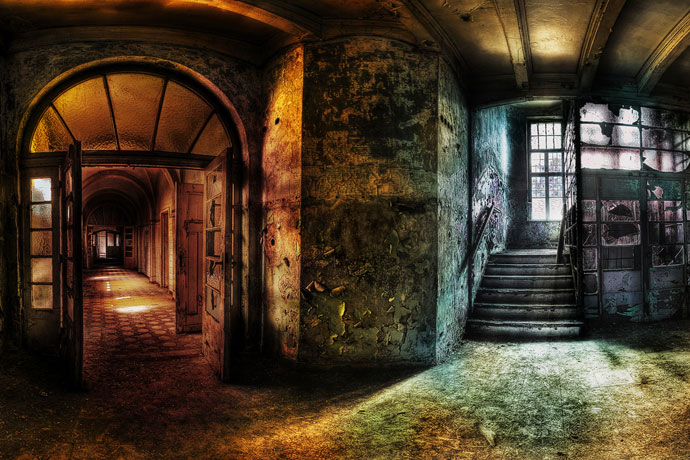 Maybe you're normal.
So you don't love the idea of razor-toothed clowns touching you. Or of being electrocuted by strangers, even very lightly.
Regardless, we imagine you still like reading about the nation's most extreme haunts. So we've found you the craziest. The ones that almost cross the line. And a couple that do.
So enter at your own risk.
We promise it won't hurt. Much.
Name:
McKamey Manor
Location:
San Diego, CA
The horrors that await you:
Being forced into a straitjacket, cold water or a closed casket. Getting covered head-to-toe in probably-not-real blood. Large insects placed on your face and in your mouth. People pushing and slapping you. Oh, and it sometimes lasts up to eight hours. That's all.
Name:
Haunted Hoochie at Dead Acres
Location:
Columbus, OH
The horrors that await you:
Realistic shotgun suicides, occasional real-life medical emergencies, death metal and monsters touching you, grabbing you and throwing you over their shoulders before cornering you with chainsaws. All on a 50-acre farm filled with demons and those people who swing from hooks in their backs.
Name:
Freakling Bros.: Gates of Hell
Location:
Las Vegas, NV
The horrors that await you:
An R-rated, personal journey through your death and ensuing descent into hell. You may be groped, touched, verbally and emotionally assaulted, and electrically shocked until you scream out the safe word. Also, it's in Vegas. Now that's scary.
Name:
This Is Real
Location:
Brooklyn, NY
The horrors that await you:
It's just a game. A game in which you and a partner get abducted by a total psycho. Then, while watching the horrifying torture of the victim taken before you, you have one chance to save your life as your killer steps out of the room. It's a real brain teaser.
Name:
The Tension Experience
Location:
Los Angeles, CA
The horrors that await you:
For the straightforward-scare version, there's a walk-through haunt in East LA created by
Saw
's director. But you could go all in and become embroiled in a real-time conspiracy... involving you. Sign up and find strange cars parking outside of your house. Mysterious phone calls arriving. And the general feeling that somebody is after you. Unless you already have an ex for this.
Name:
Hell in the Armory
Location:
San Francisco, CA
The horrors that await you:
The producers of famed horror house Blackout are taking over San Francisco's Armory, currently under ownership by an adult film studio. In the past, they've made guests walk through hallways of used condoms, eat gross things, stick their hands into dirty toilets to find clues and suffer one very naked dude jumping all over them. So, perhaps nothing too new for the Armory.
Name:
The Basement
Location:
Philadelphia, PA
The horrors that await you:
Once you sign a waiver and show proof that you're over 18, you'll be on your own. There will be touching, blindfolds, sexual content, sporadic pitch darkness, electricity, strong scents, water, restraints and general torment. We were out at strong scents.