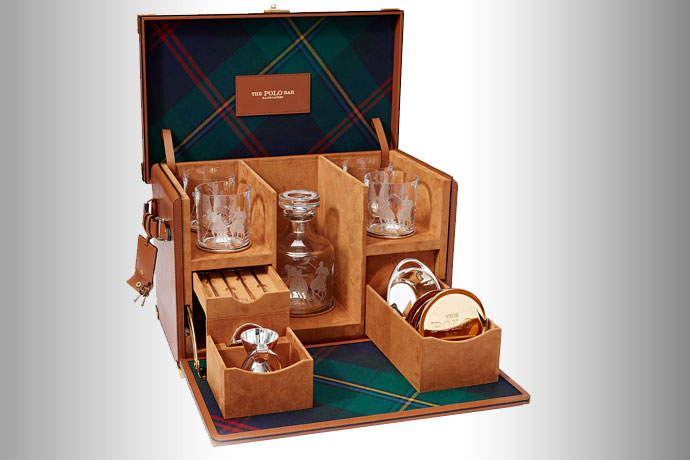 Tonight, as the presidential debate kicks off, you may find yourself yearning for a simpler time.
Before the 24/7 news cycle.
Before armchair pundits and social media.
A time that harks back to all that was good in America.
Chiefly: tartan, horses and bourbon.
So since you'll be needing a drink anyway, here's the Kipton Mixologist Box, a damn handsome set of damn handsome barware, glassware and other drinks-related essentials straight from
the Polo Bar
—an NYC restaurant and watering hole from some guy named Ralph Lauren.
It's... not cheap. But it does have everything you need to pour drinks, play host and field compliments while doing both.
Let's begin with the nut bowl.
—Right, there's a nut bowl. A silver-plated brass one, because you need snacks, and your snacks need a comfortable place to rest.
—A hand-cut crystal decanter and four matching double Old Fashioned glasses, each festooned with sandblasted polo players.
—Six cocktail picks, a jigger for measuring drinks and a bottle opener for the one guy who's not interested in your drinks.
—A leather-bound book of cocktail recipes for doing some light reading during the commercials.
—Four coasters. Because water rings are the scourge that divides a nation.
—A carrying case made from saddle leather and lined with wool, thereby ensuring that all your most prized belongings are lovingly ensconced in tartan plaid.
So all that's left is a good bottle of whiskey. Something American. Whatever fits best in your oversize tartan koozie.