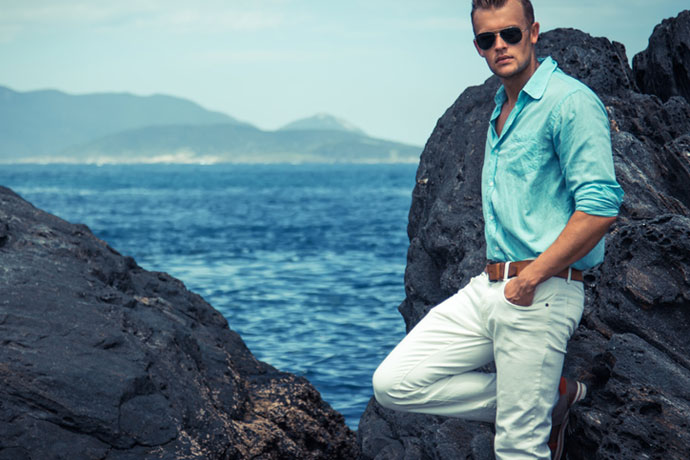 The rule about not wearing white after Labor Day is probably one of the most misunderstood sartorial edicts of all time.
And especially now that we're living in a post-rules menswear society, we need to retake stock of what it all means. (Hint: it's more about seasonability than it is merely about a color.)
So we've put together this handy guide on what to keep wearing, what to buy instead and what to pack away till Memorial Day. You may want to take notes.
White Pants:
Buy.
The Rationale:
The old convention started with not wearing white pants after Labor Day, which makes only partial sense: if your white pants are too lightweight to keep you warm in the cooler months, then you should definitely not wear them. But if you can buy yourself a more formidable pair of jeans or trousers, in a less glaring white, it makes it much easier to break the rules.
The Strong Buy:
Something like
this rinsed pair from J.Crew
.
White Canvas Sneakers:
Wear.
The Rationale:
Keep wearing your white sneakers—especially because by now they've lost their blinding whiteness and they've worn into a pleasing off-white patina.
The Plan:
Just continue letting these take you into boot weather.
White Linen:
Pack.
The Rationale:
For the same reason stated above for the pants, it's just not going to keep you warm enough. Whether it's a linen blazer, shirt or otherwise.
When You'll Know It's Time to Pack It Up:
Once it dips below 60 degrees Fahrenheit.
White Bucks:
Pack... or Wear.
The Rationale:
The safe move is just to pack these up till next spring, but you can opt to wear them a little later in an Indian summer—which is possibly the most low-key sartorially subversive move you can make in a buttoned-up office setting.
But Wearer Beware:
You've been warned, you daredevil, you.
White Seersucker:
Pack.
The Rationale:
The telltale pucker is just one of those warm-weather textures that looks out of place anywhere outside of garden party season.
The Moment You'll Realize It Looks Ridiculous:
The season's first cocktail party replete with dark wools and even darker lighting.