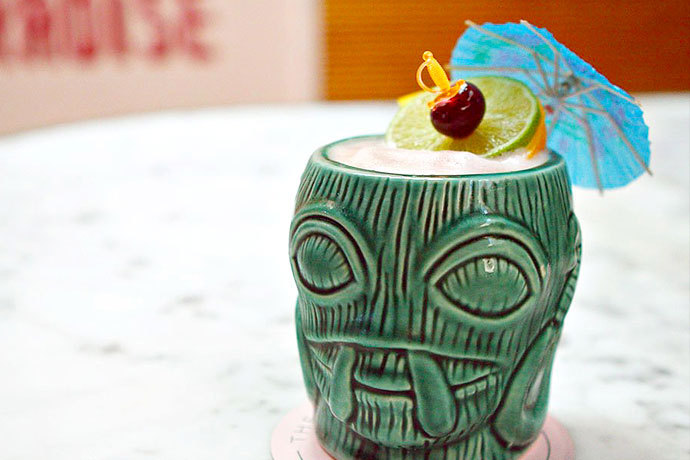 No one is saying you can't drink frozen cocktails from the ceramic head of some forgotten South Pacific deity after Labor Day.
But just to dispel any such end-of-summer rumors, go ahead and test the notion with this riff on a legendary tiki cocktail that dates back to the late 19th century.
It's the Singapore Sling Slushy, a chilly tweak on Raffles Hotel's classic libation that you can now find at New York's
Happiest Hour
. And it's employing gin that counts lotus leaves and something called dragon eye—presumably harvested from real dragons—among its botanical makeup.
This concoction fuses together so many things people are seeking in a drink these days. Some sort of historic provenance. Tropical influences. All-around frozen-ness. Alcohol...
So grab the weirdest glass you can find, crank up the blender and let your three-day weekend commence.
Singapore Sling Slushy
2 oz Bulldog Gin
2 oz pineapple juice
1/2 oz lime juice
1/2 oz Cherry Heering
1/4 oz Cointreau
1/4 oz Bénédictine
1/2 oz grenadine
2 dashes Angostura bitters
Blend all ingredients with approximately one cup of ice until desired consistency is achieved. Pour into a glass, preferably one that resembles the head of an island deity, and serve.