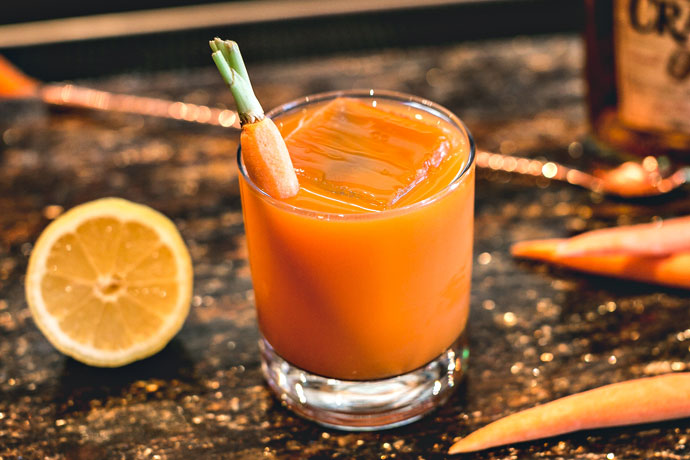 You like to be prepared for anything.

Including the inevitable day that you'll need to make Bugs Bunny a congratulatory cocktail after he wins everyone's freedom in an intergalactic basketball game with Michael Jordan.

Yes, that was the plot of Space Jam. We've been waiting 20 years to make a good Space Jam beverage joke.

And now, here's the Copper Carrot, the rare bourbon drink that dares to be saturated by root vegetables. You can try one with a cigar at Copper Lounge inside Century City's InterContinental LA hotel.

Or you can make one right here. Right now.

No pressure. But now everyone's looking at you. So what's it going to be?

The Copper Carrot

2 oz Elijah Craig Bourbon
1 1/2 oz fresh carrot juice
1/2 oz fresh lemon juice
1/2 oz fresh clementine juice
1/2 oz simple syrup
1 dash bitters

Fill mixing glass with ice. Squeeze fresh lemon and clementine with a citrus press. Add all ingredients to mixing glass and thoroughly mix for 30 seconds. Drop large ice cube rock into rocks glass. Strain mixture into rocks glass. Peel small 2- to 3-inch heirloom baby carrot. Garnish drink with heirloom baby carrot.