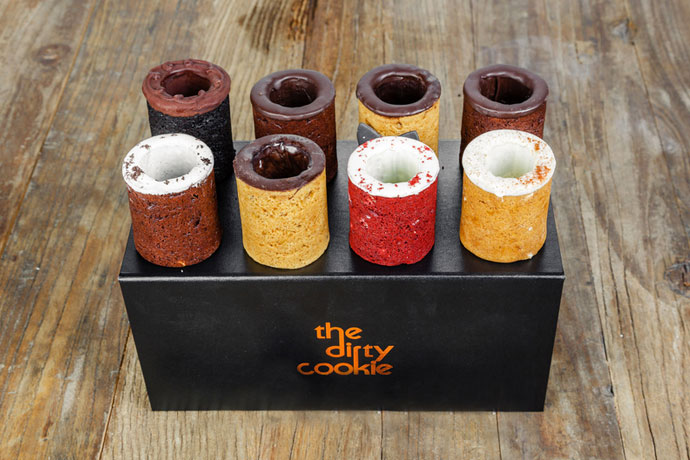 Four steps to performing a proper toast:

1. Raise your shot glass.
2. Say something inspiring.
3. Drink up.
4. Eat your shot glass.

That is either a terrible idea or a scenario involving the Dirty Cookie, a California-based concern that's making very edible cookie shot glasses so you can engage in activities like the above. For argument's sake, we're going to assume it's the latter. And for your sake, these things are available online now.

Maybe you've seen these shot-glass-shaped cookies before. A gentleman by the name of Dominique Ansel popularized them. But no one ever volunteered to make such treats in four flavors and send them directly to you until now. Hence our bringing it up.

Those flavors are chocolate chip, cookies and cream, red velvet and double chocolate, and each is rimmed with Belgian chocolate that's brushed on by hand. So they went to some trouble to ensure you're well taken care of in the cookies-as-drinking-vessels department.

Now, prevailing practices suggest that you should fill up your cookie shot with milk. And that's fine. Nice pairing, good synergy. But maybe you'd rather fill yours with a bourbon milk punch. Or a brandy Alexander. Or something else that's cold and delicious and that has a higher proof than milk.

Classic you.