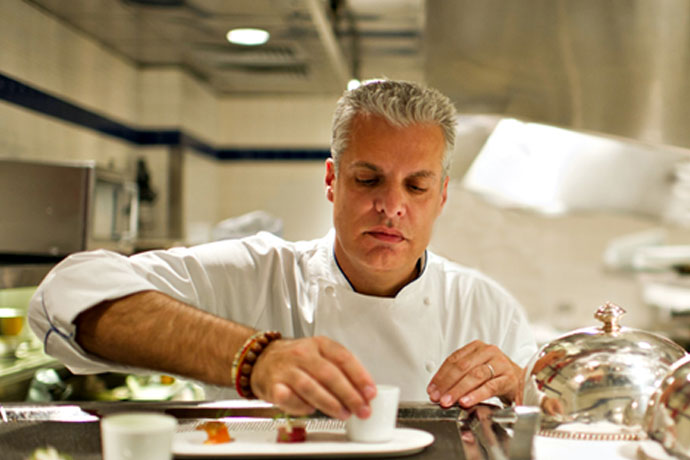 Eric Ripert is the chef and owner of three-Michelin-starred restaurant Le Bernardin. He's a prolific cookbook author and television personality. And he's a bright ray of hope to those going gray.

And now, he's got a memoir. The newly released 32 Yolks candidly tells the tale of a young Ripert, before all the stateside stardom. His rocky childhood, his foray into food and the events that led to his ultimate success in the kitchen. It's a fine read, and it offers plenty of personal insights into the chef's background.

So below, some heretofore unknown intel about the man himself.

He was eating lamb brains at age three.
Well, mostly he was just catapulting them across the room with a spoon. But still. His mother, a talented home cook, fueled his passion for food, introducing him to gourmet ingredients and elaborate meals at an early age.

But his childhood wasn't so great.
Despite his perpetually calm and sunny demeanor these days, Ripert had a rough time as a kid. After his parents divorced, he was subjected to a terrible stepdad, unfortunate events at boarding school and enough grief to last a lifetime. The man is a walking monument to perseverance and adjustment.

Hollandaise can be very humbling.
At age 17, Ripert moved to Paris to work for the famed La Tour d'Argent. On his first day, he cut his finger chopping shallots, turned a hollandaise into overcooked scrambled eggs (those would be the 32 yolks alluded to in the title), couldn't identify chervil and just generally didn't make the best first impression.

French kitchens were quite violent.
"Some guys shook all the time. Some went downstairs and cried in the stairwell. I saw a few guys punch the walls. Some guys suffered crippling anxiety attacks." Those are just a few lines describing life under Joël Robuchon, the chef who proved to be Ripert's biggest mentor. But, turns out, that wasn't even so bad. Because during that time, it wasn't uncommon for the better French restaurants to be battlefields in the kitchen. Frying pans were thrown. Plates were broken. Wills were crushed. It was intense.

A psychic foretold his success.
As a teenager, then living in Andorra, Ripert was told by a local psychic that he'd work in a famous restaurant in a city surrounded by water. Le Bernardin is a famous restaurant. And New York, as you may know, is a city surrounded by water. So she was not wrong.