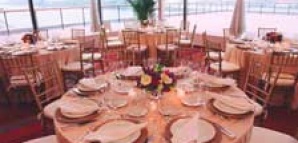 Admit it—having lunch on U.S. soil is just getting a little stale.

Next time you have some spare minutes and a hankering for international intrigue served medium rare, head over to the water near 46th and 1st Avenue, where beneath 192 rippling flags sits your next undiscovered lunch experience.

To begin, weave through the throng of tourists out front and head to the white Visitors' Tent, where you'll go through security check-in (this is the day to leave your dueling pistols at home).

Once you're clear, step through to the lobby of the United Nations—you're officially on foreign soil.

At the info desk, trade your photo ID for a security badge and take the manned elevator up to the fourth floor (the same one Kofi rides—make sure you compliment that sweet goatee), then step out to the UN Delegates Dining Room.

Perched over the East River with wide open views, ambassadors chow down here after Security Council meetings, but the spot is open to the public—and the whole experience feels oddly like '80s-Marriott-meets-James-Bond-film. Every language imaginable is overheard at nearby tables, and diplomats and dignitaries jostle over Cornish Game Hen at the all-you-can-eat buffet (watch out—we hear the Ukranians get ugly over the last piece of pickled herring). If you overhear the Pakistani and Indian diplomats discussing Kashmir over coffee, join in and offer your two cents—they love that.

The regular fare is hearty, but once or twice a month the UN flies in the best chefs around the world: from November 6th to the 17th, top chefs from Spain will prepare dishes for the Galicia Food Festival.

You always knew the UN had to be good for something.