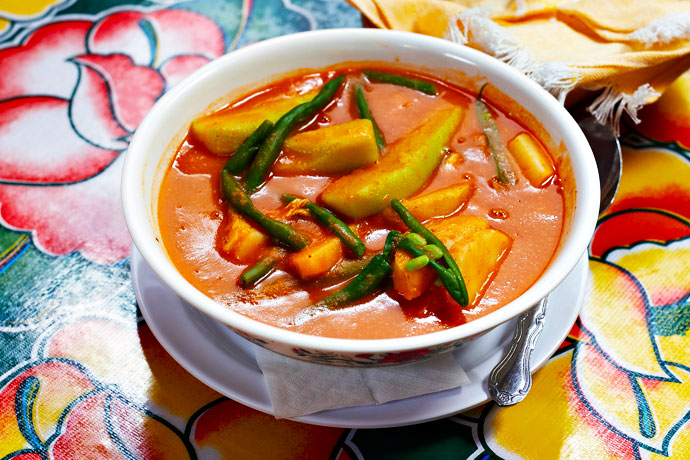 May 6.
The calm after the storm.
A day to hang up your sombrero, put down that pitcher of margaritas and... continue eating delicious Mexican food. Because there's never an occasion that doesn't call for delicious Mexican food.
As such, we enlisted Bricia Lopez on the subject of mole. She's an indefatigable champion of the classic dish, and her family's Los Angeles restaurant, Guelaguetza, serves some of the best in the country. And lest there be any confusion that Lopez does, in fact, love mole, her email address ends with ilovemole.com.
So, yeah, she's the person you go to during times like these.
Says Lopez: "Mole is a celebration of life. I don't eat it every day because the day should be worthy
of mole."
Deep.
Below, she shares her family's recipe for Amarillo de Mole Pollo, a yellow mole that she says is underrated and one of the first moles that people should learn to make. It's more of a stew-like consistency and a far cry from the chocolatey black moles you'll find in many restaurants.
It's a labor of love that can take a whole day, so... maybe you'd rather just leave the heavy lifting to them and score a jar online. But the result is worth it. And it lasts for a long time, so feel free to spoon some over pretty much anything.
Pro tip: Lopez suggests adding a topper of mole to your scrambled eggs. We're inclined to heed that advice.


Amarillo Mole de Pollo


1 whole chicken

3 garlic cloves

1/4 medium onion

1 chayote, cut lengthwise in 4 pieces

8 fingerling potatoes

1/2 lb green beans

2 hierba santa leaves (can substitute 1/4 tsp Marjoram, 1/4 tsp thyme and 1 sprig fresh mint)

125 grams fresh masa

3 roma tomatoes

3 tomatillos

3 garlic cloves, grilled

1 medium onion, grilled

6 dry huajillo peppers

2 dry chile ancho peppers

1/2 tsp whole cumin, grilled

10 peppercorns, grilled

4 cloves, grilled

salt



Place the chicken, garlic cloves, onion, and salt in a stockpot with two liters of water. Cover and cook
over medium heat until the chicken is tender and fully cooked. Meanwhile, hydrate the chiles by placing
them in boiling water and covering them in two separate bowls for about 15-20 minutes until soft.



In a separate pot, cook the vegetables with water over medium heat until tender. Reserve. Once the chicken
has been cooked, remove the chicken, garlic, and onion from the pot. Reserve the chicken in a separate bowl.
Discard the garlic and onion and add the hierba santa leaves to the stockpot. In a blender, add one cup of
warm water and the fresh masa and blend until finely pureed. Strain into the stockpot and allow to simmer
for 10 minutes, stirring constantly to prevent any sticking.



Meanwhile, in the blender, blend the tomatoes, tomatillos, grilled onion, grilled garlic and the softened
chiles until finely pureed. Pass through a very fine strainer and pour into the stockpot. Stir for five
minutes. In a molcajete, grind the cumin, cloves and pepper. Add the spice mix and salt to the stockpot and
allow to simmer for another 10 minutes on medium-high heat, stirring occasionally.



Lower the heat, and add the cooked vegetables and chicken to the stockpot. Allow to simmer for an additional
five minutes. Serve in a bowl and accompany with lime, chopped jalapeños, chopped garlic and
tortillas.



Note: To grill the onions and garlic, it is best to wrap them in aluminum and place directly over the heat
until tender and grilled. To grill the spices, it is best to place them over a griddle, stirring constantly
to prevent burning. You want them toasted, not burned.