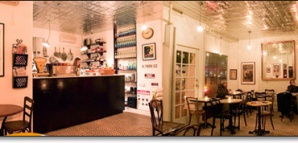 On the nights when you are simply not up for the crush of
Barbounia
, you now have Ametller—a days-old, Catalan-inspired BYO, which serves breakfast, lunch and dinner in the most soothing, relaxed digs we've seen this side of The Daddy's mahogany-paneled reading room. 
Run by first-time restaurateur Dan Babaian, with the assistance of his lovely girlfriend, the pint-sized Ametller (ah-meh-tee-YER; Catalan for "almond tree") has a rotating menu as versatile as its relaxed, loosely European aesthetic.  "Dream Omelet," a roasted red potato & chorizo frittata, and assorted baked goods for breakfast; Croque Monsieurs, honeyed goat cheese toasts (available on a salad for her), soups, and rich, paralyzing entrees like a Gnocchi souffl— for lunch and dinner. 
It's our pick of the moment for meals solo or with familiar company.  For dates that run long due to extended streaks of witty banter, you're covered: "We stay open until everyone is ready to go home," said hostess Diana when inquired about business hours. "Last night it was 2am." 
Indeed.  Proof that you don't always need the bells and whistles of Park Avenue South to get the job done.