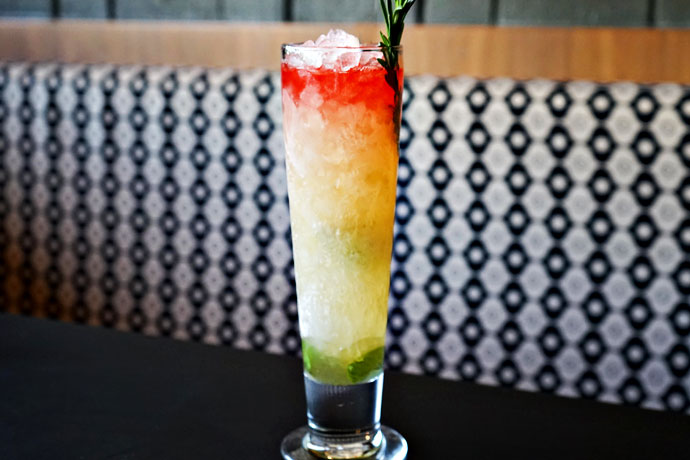 Today you earn your merit badge.
In bourbon.
All you have to do is prepare the Drunkin' Boy Scouts from Manhattan Beach steakhouse
The Arthur J
.
It's bartender Sal Roses's take on the swizzle, replacing the drink's usual star spirit, rum, with bourbon. He's adhered to the original's colors, though, which represent the green, yellow and red flag of Barbados. Except here, he's made it his own, linking the sweet bourbon and citrus with the piney flavor of rosemary and a hint of cherry from the Peychaud's bitters.
As for the cocktail's unusual name, Roses says: "It comes from the swizzle technique, which reminded the bar team of a Boy Scout rotating a wooden stick to create friction and fire. Except, of course, instead of fire they're making booze."
Makes sense.
Now, to ensure you're always prepared, here's how to do it yourself.
Drunkin' Boy Scouts
2 oz Eagle Rare 10-Year Bourbon
10 mint leaves
3/4 oz lime juice
3/4 oz rosemary simple syrup*
12 dashes Peychaud's bitters
1 sprig rosemary
Combine mint leaves with lime and rosemary syrup and muddle gently. Add bourbon and shake for five seconds without ice. Pour contents into a highball glass. Fill glass with crushed ice and pack down. Insert swizzle stick and swizzle to blend and dilute. Add more ice to create natural mound on cocktail. Top with bitters. Add rosemary garnish.


*Rosemary Simple Syrup
12 large rosemary sprigs
1 qt simple syrup
Add rosemary to boiling water for one minute, then remove and dry with paper towels. Peel off leaves and discard stems. Combine simple syrup and rosemary leaves in blender and blend gently for one minute. Fine-strain all particles out and pour liquid into a cup, then refrigerate. Syrup will keep for up to three weeks.