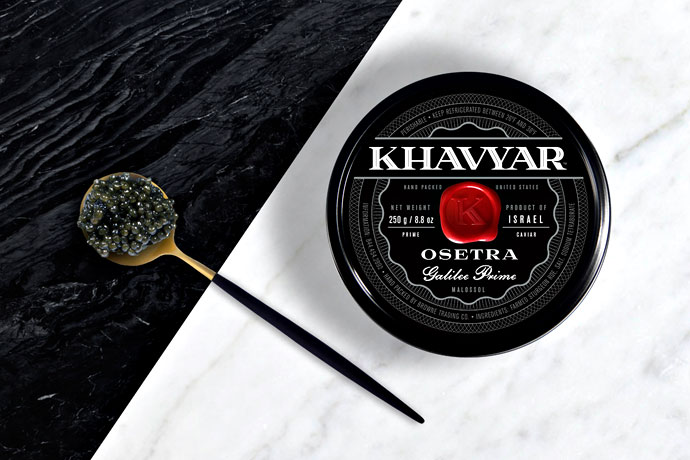 "Enough, I say.

"Enough with all the bills and catalogs and other mail that is not a nice box of sustainably sourced caviar."

—Some fictitious person (let's call him "Bob") who we made up for the sole exercise of introducing Khavyar.

That would be this new webshop you'll visit for all your fish-egg-acquiring needs, of which you have many. Or surely some.

They've got your classic imported varieties like orange Danish sea trout and Russian osetra. They've got a few domestic varieties like golden whitefish, shovelnose sturgeon and other comically named fish that have been swimming around America. And lest you worry, yes, they're also providing blinis, crème fraîche and mother-of-pearl spoons, should you currently be lacking in any of those categories.

And since we got some here at UrbanDaddy HQ—specifically the Osetra Belgian and Osetra Galilee Prime—let's include some tasting notes heard round the office. Notes like:

"I've never had caviar before, but it's fine. Tastes like salty fish."

"Why'd you email the whole floor about tasting this? I want it all. I'm taking it."

"Big fan of this stuff."

"Can we get some accoutrements? Maybe some crackers?"

"It's salty, but not too salty. Soft, but not too soft. Caviar, but not too caviar. You know?"

"I'll try it once someone buys the accoutrements."

"This makes me feel like I should have a sweater tied around my neck."

So take from that what you will.

These guys even suggest pairing your roe with beer or bourbon. No, really. Apparently that was common back in the 1800s when sturgeon was plentiful and caviar was a ubiquitous bar snack.

These are some sad, peanut-fueled times we're living in.