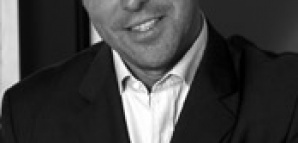 UD gets deep thoughts on food and life from silky smooth Frenchman Jean-Luc Naret, Director of Michelin, who flies around the world to eat and stay at the best restaurants and hotels (yeah, life is rough). At least he's willing to share—
UD: What's the best city in the world for food?
JN:
For diversity, New York. For technique, Tokyo. For creativity, Spain and France.
UD: What makes NY diners different from the rest of the world?
JN:
They know what they want. In NY, they really enjoy the food, but it should be the food and the experience and it should be quick and fast—and it should be new. "You haven't been to that place? It just opened. Oh, I've been there already."
UD: What's your favorite restaurant in NY for a first date?
JN:
Perry Street
, because it's a nice neighborhood, and people tend to not think about this place.
UD: A cheap bite?
JN:
The burger joint behind the curtain in the
Parker Meridian
. It's a secret place. It's the best burger in town. But don't tell anyone (laughter).
UD: To meet women?
JN:
At
Nicole Farhi
for lunch on the weekend, you will meet the most beautiful ladies who are doing excessive shopping.
UD: For lunch?
JN:
If it's a Saturday afternoon and I'm downtown, I would stop at the terrace of the
Cipriani Downtown
, to be seen, to see. For the best deal in town,
Jean Georges
—it's a three star restaurant with a $28 prix fixe lunch.
UD: What was your best new find this year?
JN:
In Tokyo, I was very surprised by a restaurant called
Pierre Gagnaire
. It's a three star in France, he just opened one in Tokyo. Except for the name, everything is Japanese. I remember every single plate I had there, it was exquisite.
UD: What's the most underrated country for good food?
JN:
In Copenhagen, chefs go to the market in the morning, and from the market they make the menu, and then at night they cook for their guests in a little open kitchen, and then bring the plates and serve them directly. Holland, too.
UD: What's the best hotel in the world to romance a lady friend?
JN:
For a romantic escapade, I would go to Italy and
La Posta Vecchia
. It's the former house of Paul Getty, and it's absolutely beautiful.
UD: OK...so let's get deep. What's up with the
Nobu
star drop?

JN:
There's always a good reason to lose a star. It's about consistency. Sometimes somebody's losing interest, they're not consistent anymore—there's always a good reason. Inside themselves, they all know the reason why they lose a star.
UD: Ouch. We just had a flashback to our third grade teacher. On to a nicer topic. What's your favorite place in the world?
JN:
My favorite place is in Mauritius. It's the restaurant at the
Royal Palm
, right on the beach, under one big badamier tree, like a hundred years old, with tables all around it. When you sit there, and you have a little salad of heart of palm, it's just amazing. It's my favorite memory of what paradise is.