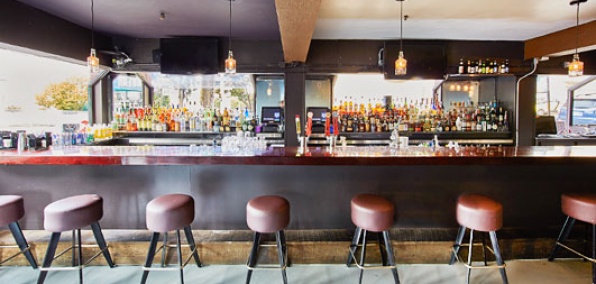 This isn't a cocktail bar.

Or a tiki bar.

Or a ramen bar.

It's just, well... a bar.

Weird, we know.

Yet so very glorious. Here's Ho's Bootleg Tavern, a new neighborhood watering hole that harks back to simpler times with a 47-strong whiskey list and margaritas floating in beer. It's soft-open now in Russian Hill.

They're still remodeling, so right now you can expect to find little more than a few elevated banquettes, a long bar and pendant lights handmade from whiskey bottles.

But that's okay. You're not here for frills. You're here for a night of focused imbibing. For Moscow Mules, Old Fashioneds and other such drinks that are definitely not made by people who call themselves mixologists.

But should you require something a little more adventurous, you can always order the IceBerg—an apt name for a blended margarita floating in beer. And when the kitchen's up and running, you'll also have access to Asian chicken wings, butter burgers and maybe even a ramen takeout window.

Okay, so it might actually be a ramen bar...