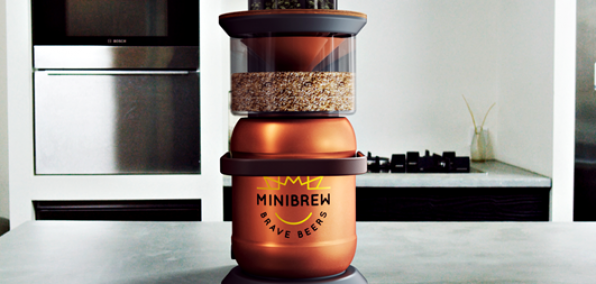 Certain fields you'll happily leave to their respective professionals.

Horse wrangling, for instance. Sewing. Slam poetry.

When it comes to brewing exotic beers, however, you'll gladly try your hand...

Here to aid your hand: MiniBrew, a small-batch homebrewing machine destined to lead you to homebrewing greatness by doing all the work, now available for preorder.

This is the first all-in-one brewing situation that just sits on your counter producing tasty beers as you periodically come by and perform menial tasks to assist. Pretty ideal.

First order of business: help it come to fruition from the Indiegogo phase. Once it does, and you own it, download the corresponding app. It'll use your preferred tastes to suggest beers you might want to create: German pils, American lager, literally anything else...

Then order a box filled with malts, hops, yeast and spices from them. When it comes, follow the app, adding ingredients as instructed. The machine will take care of mashing, brewing, fermenting and who cares what else because it's doing everything. You'll take care of peering at its progress on your app, getting as many updates as you'd like.

About a week later, it'll alert you when it's ready for tasting.

You'll handle that part yourself.