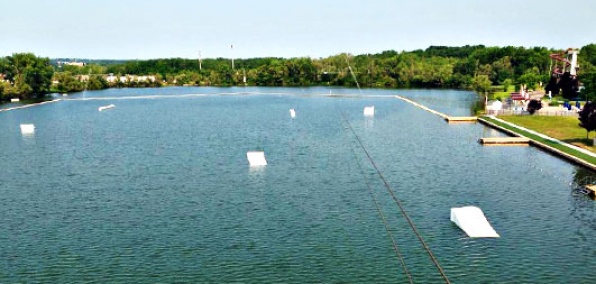 You know that friend you really only contact when you want something?

Hey, you're busy. And those third-baseline seats don't gift themselves.

Anyway, we all need to be super nice to the Finger Lakes for a while.

Or just until we can bum-rush the show at Roseland Wake Park, the wakeboarding fantasyland that these sweltering days beg for. It's open and all wet and cool right now upstate.

You're sticky. Your office's A/C is putting particles into your lungs doctors won't even know are lethal for another 20 years. Let's just get a mass sick day going, ideally to be commemorated upon arrival with the call of "Cannonball" by a portly young lad. Don't fight this.

Details? Somewhere on Muar Lake there's a large area with no boats, but plenty of towers. And on those towers are elaborate pulley systems that completely eliminate the need for boats where wakeboarding is concerned. These towers and pulleys just take you along through man-made wakes until you're the next Danny Harf. This charming slice of placidity will also hook you up with waterskiing, wakeskating, kneeboarding and stand-up paddleboarding.

Oh, did you want to know who Danny Harf was?