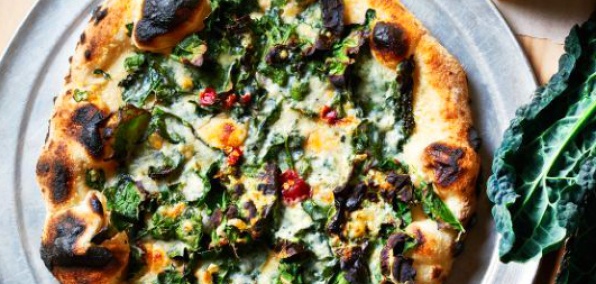 "There's a real lack of legendary wood-fire-grilled pies covered in housemade cheese and charred dinosaur kale in this town."
—Person who doesn't live in Brooklyn

"Here, have this."
—Person who does

Get the door, it's Roberta's Pizza—yep, the famed Brooklyn eatery has decided to pack up their pies and ship them all over the damn country. They're available now through Goldbely.

If you live in New York, you're familiar. If you don't, you're... still probably familiar. It's the Neapolitan-inspired pizza place known for their crisp brick-oven crust and housemade cheeses and random Jay Z sightings.

But this story doesn't start there.

This starts in your living room, when you know the urge for something hot and cheesy and covered in Calabrian chilies is about to hit. In, say, 24 to 48 hours. (You're very sensitive to your imminent pizza cravings.)

Hop on that Goldbely site and make some decisions—they're all single-serving pies that have gone through some high-tech "blast chilling" to make the shipping thing work. Really. Anyway, maybe two margherita pies make sense. Or maybe you'll go for the Baby Sinclair—that one's topped with nine-month-aged cheddar, parmesan, charred dinosaur kale and Calabrian chilies.

There.

In 23 and a half hours, it's all going to be okay.

You're going to be okay.