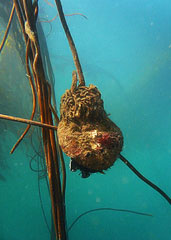 "Hi,
"I'm currently free-diving off the Mendocino coast, and then bringing my bounty back to a small, family-owned inn where I will play a vital role in turning it into a delicious, savory meal.
"Back Monday."
There. That's every email you'll send next Wednesday through Friday.
Pack your flippers, you're off to the
ABCs of Abalone Package
at Little River Inn: a two-night abalone free-diving adventure, accepting reservations now.
Abalone diving. You don't do it every weekend. Free-diving. It's not not-dangerous. Thankfully, guide group Triton X is involved—just acquire a fishing license and they'll make sure you do the other parts right.
But first, drop by the inn. Maybe take a moment to appreciate your ocean-view-and-fireplace setup. Just a moment. The guides are waiting. They'll fit you for gear, assess your skills, compliment your swim trunks. You'll observe the dive site, drink some local wine and maybe eat a scallop at the welcome reception.
Then... Thursday comes. Splash into the sea with your Triton X comrades. Swim around and retrieve some abalone. Bring them back to the kitchen where you'll clean, cut and pound your catch. Someone else will sauté them for dinner.
Sautéing: a completely different skill set.