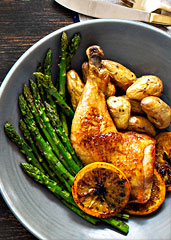 Dinner.
You could make it yourself.
Or use your phone to get someone from Providence to send over something they've been working on.
Not saying it will be better. Just cleaner. And faster.
And, okay, better.
Possible because of
Munchery
, a convenient new service conveying you meals from chefs who cook in the better restaurants around, soft-launching Monday on the Westside and expanding over the summer—if you sign up today, the first meal's on them.
There's a kitchen somewhere out there led by Warren Schwartz (of Westside Tavern burger fame) and filled with cooking types from places like Craft, Providence and LA Chapter. They're in there pushing themselves to create new menu stuff every day. Maybe if you think hard enough, one of them will hear you and make it real. Go on:
lobster roll bowls
.
Rib towers
.
A nice salad
. At least one of those seems pretty plausible.
So when you need them, just pull up the site on your phone or computer, take a look at that day's menu, order what you want and get it sped to you. You can track its progress if your hunger levels are dire.
It's like
Enemy of the State
, but delicious.