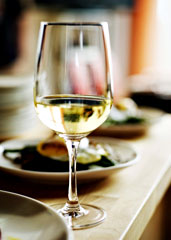 Hello, May. Nice to meet you, too.
No offense, but we're skipping to June.
On account of the
Whisk at Fazenda Pop-Up Supper Club
, in which the Whisk guys finally return to serve you dinners in a JP Café, now taking reservations for their inaugural seatings in June.
Here, have some more words about this miraculous development...
It's been a while.
After leaving Wink & Nod's kitchen in September, the Whisk guys embarked on a cross-country motorcycle tour and haven't done a dinner in Boston since. That hiatus is over.
They're staying in one place.
At Jamaica Plain's Fazenda Coffee Roasters, where they'll have dinners on the last Thursday, Friday and Saturday of every month.
Each dinner will have six to nine courses.
And June's will feature a duck breast aged for 50 days. That's a lot longer in duck days.
They're importing talent.
Every dinner will be paired with wine or drinks selected by guest sommeliers or bartenders they've tapped from Boston, New York, Chicago or LA.
The future looks bright.
The club will continue for the next seven or eight months. And by the end of the year, they plan on opening their first permanent restaurant.
It's a first-day-of-May miracle.