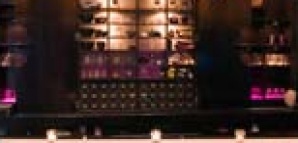 For many of us, "Yumcha" might sound like what you get at some questionable massage parlor right before the storied happy ending. But raise your hopes and get your mind out of the gutter.

"It's time to elevate Chinese cuisine to the level it deserves," says Quentin Dante, owner of Yumcha, which is in fact a contemporary Chinese bistro opening tonight on the corner of one of the better blocks for your stomach in the West Village (home to Blue Ribbon Bakery, Mas, A.O.C. Bedford).

The action on the inside lives up to the locale—inside this Glen Coben-designed intimate and sexy spot, chef Angelo Sosa (Jean-Georges protege and ex-executive sous chef at Spice Market) will work in full view, serving up a variety of regional Chinese cuisines using French technique.

This isn't another misguided attempt to tart up perfectly serviceable comfort food—like dipping buffalo wings in caviar—it's the genuine article. Yumcha was actually inspired by modern upscale restaurants in Beijing and Shanghai and prides itself on serving authentic contemporary Chinese (something Dante claims that the restaurants in Chinatown don't do).

Put away the takeout menus and find a date to impress at Yumcha—there might even be a happy ending after all.