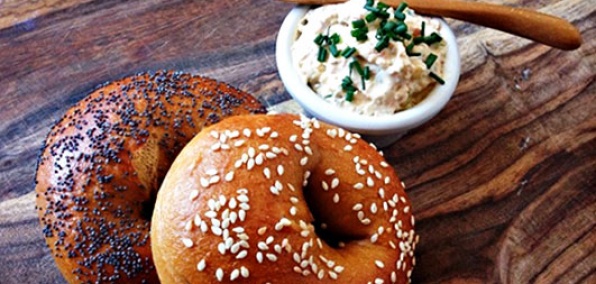 It's time to get dill.

Fight for your right to poppy seed.

No sleep till...

Okay, this could go on all day.

Let's just get to the Yeastie Boys, a feisty new outfit with East Coast roots looking to up LA's breakfast game with small-batch bagels and weird spreads, now available pretty much wherever you want them. For example:

Office-bound breakfast meetings, birthdays and general bagel-based revelry.
You can arrange to have them show up with 24 hours' notice. They'll bring the bagels. Bacon bagels. Bagel sandwiches. Bagel pizzas. Spreads like Hennessy-and-pineapple, Nutella-espresso and beer-cheese. You just show up and modestly accept credit for always knowing the best Beastie Boys–inspired bagel makers.

Inside the Coachella campground.
You're searching for friends. Hungry enough to eat anything. Hey, it's the Yeasties.

At Swingers.
Yes, Swingers is using their bagels now. Both Swingers. So that's kind of a big deal.

On the road.
Soon, they'll be cruising around the city in a food truck with a super-loud sound system.

Wonder what they'll play.