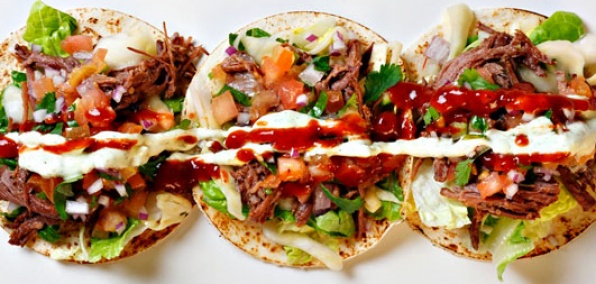 To whoever spent all that time wishing for new Mexican food trucks:
You did good. Real good.
Because you're about to get not one, but two engine-powered operations that are no strangers to the taco.
Let's start this rally with
Sabroso Taqueria
, rolling out April 1.
The origin story:
Sabroso Taqueria was a thing. Then it closed in 2006. Then it reopened last year in FiDi. Now it's a truck.
The food:
An exact replica of their brick-and-mortar's simple goodness: 12-inch steak burritos, shrimp tacos and chicken quesadillas abound. (
This is a menu
.)
The bonus feature:
Their carnitas are slow-roasted for 18 hours. That's 36 hours in carnita years.
And the saga continues with
North East of the Border
 (pictured), hitting the streets on April 6.
The origin story:
A US Coast Guard member and a veteran chef from Cancun join forces to
fight crime
make tortas.
The food:
Fried avocado street tacos, steak Milanesa tortas and weekly changing specials like stuffed peppers and pork tamales. (
This is another menu
.)
The bonus feature:
Come May, they'll do breakfast. That means molletes, which is a Mexican toast topped with fried eggs and chorizo.
So, toast... but better.