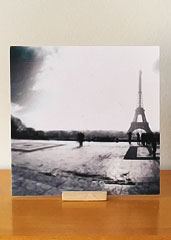 One day, a seed fell in the forest.
A tree grew.
And today, that tree is a block of wood that you can put your face on.
Courtesy of
Woodpost
, a new service with a corresponding app that lets you relocate any photo on your phone to a piece of wood, now available for iPhone.
You've seen these picture-to-wood things before. But that app part. That's part's important. Because this is the first one that lets you use your phone instead of your computer to transfer your masterworks to sturdy plywood squares. So it's easier now. Which is pleasant.
The hard part: picking a photo that would look great on your desk. Friendly advice: go with one of you at your desk. Upload the pic to the app and select one of two shapes—a basic square or a rectangle that looks like a postcard. Then they'll send it to you. Fine, not so hard after all.
And if you'd like them to mail it to someone like a postcard, they'll let you put an inscription on the back and do just that.
You'll have to mail your own "Like" button, though.