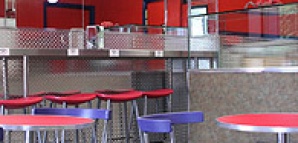 You deserve the finer things in life.

Which is why you shouldn't settle for a greasy slice or a carton of Kung Pao when you want delivery.

You deserve fresh, steamed Maine lobster and a jumbo shrimp cocktail...oh hell yes you do.

Urban Lobster has you covered. Opening next week, UL will deliver your raw bar desires anywhere between the Financial District and 14th Street, free of charge.

Just think, now you can enjoy the ultimate Maine Lobster roll—a mound of fresh lobster meat packed into a perfectly toasted bun—without leaving your desk…while lying on your couch…or while sitting at your "spontaneously planned" picnic in Union Square Park.

To keep your seafood the way God intended, Urban Lobster serves up everything in airtight containers. They'll also make sure you have all the right utensils (lobster fork, fresh lemon, hand wipes) so you can go to work. All this, plus you avoid the traffic into Kennebunkport.

The name of the game is fresh ingredients. That means every crab, lobster, shrimp and oyster that slides down your gullet was delivered same day. And what seafood feast would be complete without the right sides? A chopped salad or baked potato topped with sour cream and caviar should do the trick.

Once in a while, it's nice to remind yourself you do live on an island.