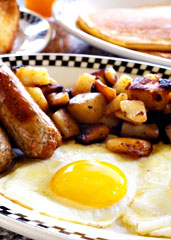 THE CLAIM:
You can eat breakfast. For dinner.
TAKING ANTI:
Dr. McSuppersworth, staunch and noted critic of eating breakfast foods past 10am on weekdays.
TAKING PRO:
The Breakfast Club, host of
Breakfast for Dinner
, a new monthly supper club serving four-course morning meals well past the morning, now taking reservations for their first dinner on March 2.
UrbanDaddy Boston
will be moderating.
UD:
Please, tell us about your background.
McSuppersworth:
I hold a doctorate in dinner studies from Yale. Also, I don't exist.
The Breakfast Club:
I'm a retro-looking diner named after a John Hughes movie.
UD:
Thank you, gentlemen. Your general thoughts on eating breakfast at dinnertime?
McSuppersworth:
It upends millennia of established Western eating rituals.
The Breakfast Club:
It'd be pretty great to meet with friends on the first Monday of the next few months for seasonally themed, multicourse dinners with breakfast fare and plentiful mimosas.
UD:
What foods should be on the menu?
McSuppersworth:
Nothing. Or maybe a pot roast.
The Breakfast Club:
Well, for March, I'm doing a Lucky Charms parfait, Baileys french toast, corned beef hash and cabbage, and an Irish coffee milkshake.
UD:
The Breakfast Club wins.
McSuppersworth:
This was fixed.