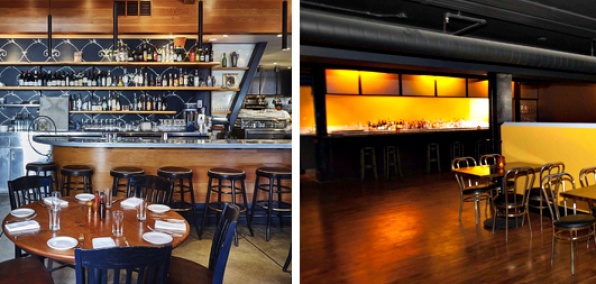 Finally.
Boxing Room
(left) has a full bar to go with its New Orleans food, and it's open now.
Finally, also.
Hawker Fare has itself a new bar, too. It's upstairs and it shall be known as
Holy Mountain
. They're hoping to open next week.
Tough to know which one to care about most. Guess it's time to make them face off against each other for no real reason.
The Backstory
Boxing Room:
After years of only beer and wine... at a New Orleans–themed restaurant... it just feels right now.
Holy Mountain:
Sure, it's only been two weeks since Hawker Fare opened. That's hardly an argument against opening a new bar upstairs.
Edge:
Boxing Room. Points for perseverance.
The Look
Boxing Room:
Same bar. New wooden alligator.
Holy Mountain:
It's its own spot, really, a sparse room with dark booths and not much else. If you want to donate some knickknacks, they'd appreciate it. Really.
Edge:
Holy Mountain, since you can help make it whatever you want.
And... the Offerings
Boxing Room:
Oyster shooters. Sazeracs.
Hurricanes
.
Holy Mountain:
Dried-squid jerky.
Brother Charlie'
s got cachaça and guava.
Also, hurricanes
.
The Part That Should Say "Edge" but Doesn't:
Pitting people against each other, people who want only to bring you hurricanes, is wrong. Won't happen again.