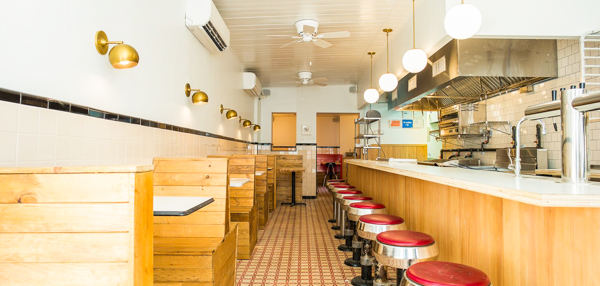 Words that describe today:
Monday.
Bummer.
Fried.
Chicken.
Getting.
Better.
Thanks to
Pies 'n' Thighs
, which, against all odds, is a place with fried chicken and pie. It's now open on the LES.
You've likely crossed paths with the Southern cooking par excellence at these guys' Williamsburg location. This one's a little different. Where Williamsburg's got a basically homey vibe, this one's a straight-up lunch counter (albeit with breakfast and dinner, too). One with sourdough donuts and a bunch of TBD sandwiches the original doesn't have.
Strategy here: carve out a solid hour and a half from your afternoon and pull up a vintage stool at the counter. Have an Arnold Palmer and a chicken biscuit, by yourself. Bask in the glow of that. Just really glow-bask for a while.
Then report back to a friend your poultry-related discovery. Return with them, this time grabbing one of the mini-booths, laying siege to mac and cheese and
bourbon pecan
pie. More glow-basking as needed.
And for any kind of bowls that could be called "super" coming up, buckets of chicken, biscuits and pie are happening on a takeout basis.
What, were you doing tea service?