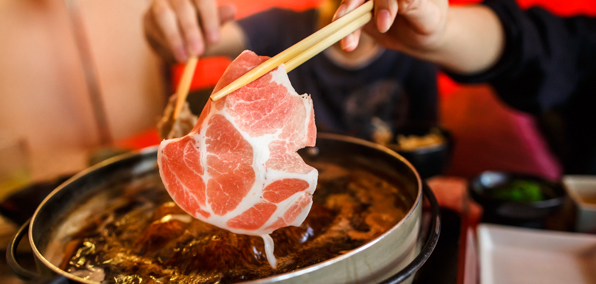 Today's low: -2 degrees Fahrenheit.

Today's high: 450 degrees Fahrenheit.

Thankfully, that second one only applies as ShabuMaru, a new hot pot chamber where you'll cook Wagyu beef at comically high temperatures and then eat it with a big dumb grin on your face, soft-open now within the Westin in Back Bay.

This: not your average Chinatown-y hot pot joint. You're working with white tile walls, hanging flora and a three-sided bar surrounding an open kitchen. If you're thinking "I can probably take a third date here," good thought.

You'll start with some hard choices. Choices like prime ribeye, sushi-grade salmon or Wagyu beef. Having company helps.

Pick between vegetable or chicken broth, which will soon be poured into that copper pot in front of you. The broth will eventually reach a temperature of 450 degrees, safely entering don't-touch-that territory.

Then more stuff shows up, like chili paste, garlic, daikon and scallions. Add what you want to the mix. And finally, oh, hey, look at that, you're cooking things. Just sit back with a bottle of sake and let the pot do the work.

Is... how hot pots work.