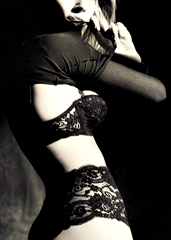 Remember how you felt a couple months ago when holiday decorations went up way before it seemed appropriate...
Well, you might get a similar feeling right now.
Only instead of Christmas, it's Valentine's Day. And instead of decorations, it's lingerie. And instead of minding, you're not going to mind at all.
Because here comes
La Perla
, the city's first brick-and-mortar outpost of the Italian underthings maker that's about to facilitate some meaningful new relationships in your life, hoping to open early next week at Buckhead Atlanta.
It all starts innocently enough once you step inside—hexagonal Portuguese marble slabs on the floor. Pastel silk tub armchairs. Arches lined with pink onyx.
But you've got big plans for this place. Plans that are precisely 41 days away and may or may not involve a tricky dinner reservation and a silk satin bustier. Or a floral lace slip. Or an it-doesn't-really-matter-because-it's-the-thought-that-counts.
But if you'd rather just bring your date in, that works, too. They'll be presented with lacy options on velvet-lined trays. Then they'll be ushered past a gateway to a fitting room equipped with a service bell.
Then you'll pretend you work there.