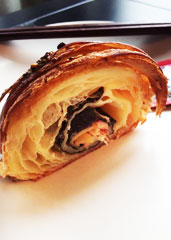 It'd be tough to pull your attention away from the prospect of Thanksgiving dinner at this point.
Somebody would have to put a sushi roll in a croissant or something.
And here we are... Meet the
California Croissant
, a cross-cultural, cross-mealtime, cross-sushi-and-French-pastry creation available now at Mr. Holmes Bakehouse.
It all started in the Asian food section of the grocery store. That's where pastry chef Ry Stephen came up with the idea to merge two of the world's greatest foods. Which led him to his bakery kitchen. Which led him to this: a salmon sushi roll enrobed in a buttery croissant.
So let's say you find yourself in the Tenderloin with a craving for something sweet. And savory. And quick. You'll pop into the sleek, white-tiled bakery and make your way past the brioches and the donuts. (Stay strong.) Then, you'll lock eyes on your soon-to-be-beloved furikake-topped pastry.
There's no wrong way to eat this thing, but breaking it in half might be wise. That way you can really admire what's going on in here: the smoked salmon. The ginger and wasabi. The delicate nori. The flaky croissant dough really holding it all together...
It makes you feel things.