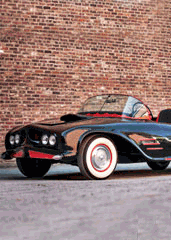 Buying obligatory gifts for other people is hard.
Buying superfluous gifts for yourself is less hard.
And that's how you justify this.
Paddles up for the
Entertainment & Music Memorabilia Signature Auction
, your chance to own important pieces of celebrity history (or at least a 1963 Batmobile). Online bidding opens Monday, with in-person bidding launching December 6 at Heritage Auctions on Maple Ave.
You can check out the lot
right here
. And right below here are a few items worthy of a bidding war.
A custom-built 1963 Batmobile
that was officially licensed by DC Comics.
Jimi Hendrix's patriotic jacket.
You know the one: red, white, blue... a jacket.
Beatles LPs signed by actual Beatles.
Yes, even George.
Certified gold records
from the likes of Led Zeppelin, the Rolling Stones and the Jackson 5.
An oil painting by Frank Sinatra
that would look magnificent above your couch.
A signed Marilyn Monroe portrait
addressed to "Ferdinand."
So it helps if your name's Ferdinand.