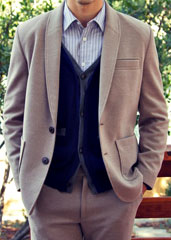 Somehow there's still room.
There's still room for another Abbot Kinney temple of greatness. By which we mean a new place you can buy good clothes and stuff.
Meet
Hyden Yoo
, the first shop anywhere from the man who knows how to put a person in a well-fitting shirt and maybe a trench coat, now open in Venice.
You probably know the name. People like Hyden Yoo. Because he's the kind of person who wants only for you to look nice in your streamlined, slim-cut button-up shirt at your Commissary meeting, then at your LACMA date, then at the Little Next Door on the next part of your LACMA date—without having to change. And also he started his line with money he won on
Fear Factor
. So yeah. Good guy.
The new shop's got concrete. It's got walls of glass. It's got a sharp but low-key shop-from-the-future vibe. And it's got... basically everything currently being made with a little Hyden Yoo tag somewhere inside. Shirts you could wear under a blazer or a shawl-collar cardigan. Blazers. Shawl-collar cardigans. A belted trench coat.
Only going to be about 70 degrees today, so...