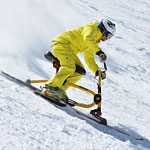 COLORADO
They're Not Olympic Sports. Yet.
Two new sports to become acquainted with:
Skijoring: Put on some skis, attach a leash to your waist and a dog will pull you around the slopes.
Snow Biking: Instead of wheels, these bikes have skis. Don't worry, it's just like riding a bike. With skis.