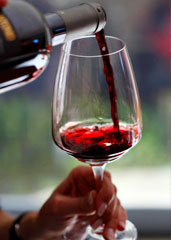 Wineries: good.
Driving to wineries: bad.
The whole thing's pretty clear-cut.
And that's how you rationalize
Fly-In Wine Tours
. It's a local service that'll whisk you to and from a handful of local vineyards, available now via Epic Helicopters.
There's a real possibility this requires further explanation. So...
You'll get picked up in Addison or Fort Worth.
From the airport, though. Not like some empty field marked by a signal fire.
You've got six trips to choose from.
Keep it local with a quick, 15-minute flight to Lost Oak Winery in Burleson. Venture farther to Messina Hof, or point toward the Hill Country for a dual visit to Pedernales Cellars and Becker Vineyards.
There will be wine. Also, snacks.
The trips vary, but once you land you can expect to sample wines, tour the facilities and eat some dinner or cheese boards. These are all good things.
They'll do whatever you want, really.
Just call these guys up to discuss. Maybe you want to visit multiple wineries in one trip or fly over a particular landmark. Maybe you want to hang upside down from the landing gear.
You'll never know if you don't ask.