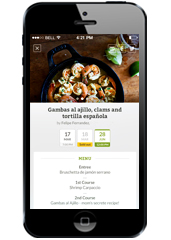 Nope, this isn't weird at all.
Just going over to a complete stranger's house for a dinner party—they're making flan. You like flan. What could possibly go wrong?
Yep,
Cookapp
exists. It's an app that involves connecting willing dinner party guests with able dinner party hosts, and it's now available in San Francisco.
Big picture, the world is made up of people who like to cook... and people who like to eat. If you find yourself solidly in the latter camp, well, never a bad thing to have too many options. So...
Maybe you download this app now and then carry on with your afternoon.
Maybe one day you feel like you've eaten at just all of the restaurants.
Maybe you and a date feel like a little adventure.
So maybe instead of doing the usual that weekend, you decide to log on to the app (or go on the website) and peruse the event listings posted by people who are planning a little dinner party—you'll see menus, themes and house rules. They would like very much for you to join.
And for you to pay for your reservation.
So it's like an underground supper club.
Deep, deep underground.