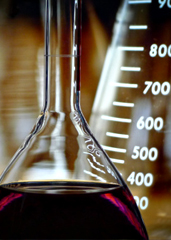 "Underground dining."
Without sounding too jaded or anything... you've been there, done that, had the black-truffle agnolotti with foam of spring ramps in an abandoned warehouse somewhere.
Now, you're bored.
So, this:
Liquor Lab
, a secret society of alcohol enthusiasts who are actively recruiting for their little cocktailing cabal, now taking membership applications.
The guys behind it have backgrounds that include some of this town's more respected alcohol purveyors as well as a stint at West Point. When it comes to presenting a multicourse cocktail menu with military precision, you couldn't find a better team.
First, you need to go to their site. If you're intrigued by words like "Cointreau caviar," "whiskey gel" and "cocktail popsicles," get a yearlong membership (they cap it at 300 members).
You'll then be on the list to buy tickets to upcoming events, which start late-October.
So about a week before the event, you'll receive an email telling you where to report. You'll arrive at said location. You'll mix with interesting people. Maybe you'll see dry ice employed in cocktails. Maybe you'll eat appetizers as palate cleansers. Maybe you'll drink dessert, which may taste like a chocolate layer cake.
Laboratories usually come up short on dessert.