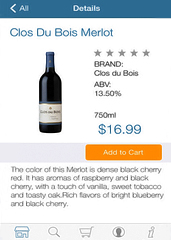 "Give us 22 minutes and we'll give you the world."
Nice slogan.
"Give us 20 to 40 minutes and we'll give you beer, liquor and ice."
Better slogan.
Time to roll out the red carpet (or at least answer your doorbell) for
Drizly
, a beer-/wine-/liquor-delivery app now in beta launch to five Northwest neighborhoods.
This is like Uber, Instacart and the other apps that connect your wants with local folks who can satisfy them. And what you might want: Barbados rum and ginger beer (you know, in case there's a run on your famous Dark and Stormys). Or a bottle of blended scotch and some ice for a Friday office happy hour (in case you're Pete Campbell).
Call up the app, and you'll be able to search from a couple thousand (give or take) beers, liquors, wines and mixers, arranged by type, brand and country. Add them to your cart, pay about what you'd pay in the store plus a $5 delivery charge, then wait about 40 minutes for your quarry to show up.
That's 1.3 reruns of
Cheers
.