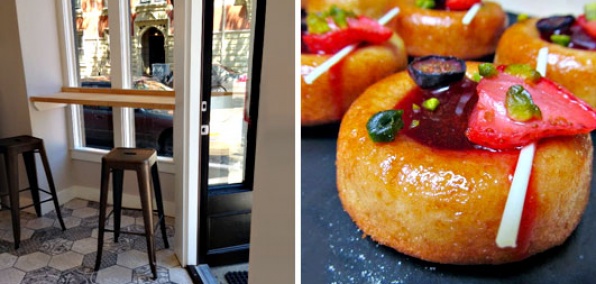 It appears to be Monday.
We know that because the calendar says so.
Better press the button that gives you croissants from a James Beard Award–winning pastry chef.
But in case you don't have one of those,
Café Madeleine
is pretty much the same thing. It's a fun-size croissant-teria where your every desire for French pastry will be fulfilled, and it's now open in the South End.
We'd like you to meet Frederic Robert. He's a busy guy. He's spent 25 years working pastry miracles across Michelin-starred European kitchens and most recently at the Wynn Las Vegas. But he seems to think Boston really deserved some new baked goods. Because now he's here, and this just happened.
Inside, you'll find a half-dozen counter stools, the obligatory antique-looking mirror and a big window in the wall so you can watch people wearing white break eggs and bake. Please don't tap the glass.
When you're ready, proceed directly to the counter for
an embarrassment of pastry riches
—buttery croissants stuffed with gruyère cheese and Black Forest ham. Vanilla bean pastry speckled with rum raisins. Éclairs made with La Colombe coffee.
We could be here all day, people.