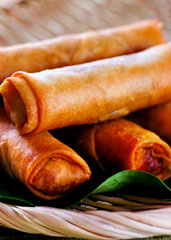 We're not going to say that your lunch today was a total failure.
We're just going to say that it wasn't Cambodian egg rolls from a big yellow truck.
But that's about to change. And soon...
Applaud the delicious efforts of
Yumm Bai
, a new vehicular vendor of egg rolls, lo mein, meats on sticks and other universal pleasures, hoping to roll out next week.
Our story begins with a mom. Mom has an egg roll recipe that blends Cambodian and Chinese techniques. It's great, and it's generally agreed that the world/greater Boston area should experience it. So mom and daughter launch a food truck whose name means "eat rice" in Cambodian. The end.
Until you march along demanding lunch. That's when all these hand-folded, deep-fried egg rolls generously laden with shrimp, pork or vegetables come in. (
In fact, you should probably check out the menu here
.)
And because you can't live on egg rolls alone, they'll see to it that all manner of shrimp fried rice, BBQ pork lo mein and secret-sauce-marinated beef skewers come into your possession.
Beef skewer possession is nine-tenths of the law.