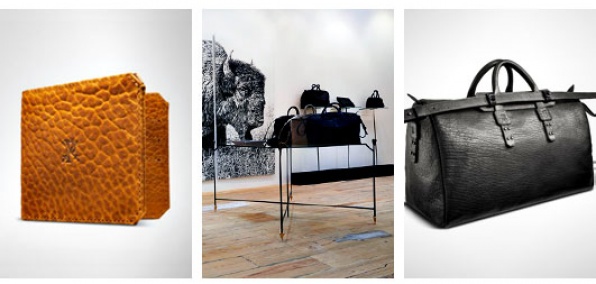 About the gorgeous new friend hitting the road with you for Labor Day weekend:

Sophisticated. Supple. Made out of bison leather.

Oh, and maybe there's also a person next to your new duffel.

You'll meet at Parabellum, the first store for handsome wallets, belts and bags from LA's esteemed bison-leather craftsmen, opening Saturday on Melrose.

You're coming to this stark-white shop for luxurious leather things conceived and stitched out of bison hide by a crew of locals. Like severely creased, supersoft yet tremendously durable briefcases that will unnerve adversaries as you start extracting documents on a big boardroom table. Or when you're pretending to do that in your friend's short film.

You're also coming here for the giant bison mural. Well, probably not. But there it is anyway, setting the scene for you to ponder pumpkin-toned belts, arrow-shaped key chains and other bold feats of aggressive bison-leatherness. The burgundy wallet insists, no, really, you've got this round.

And a random custom saddle insists...

Let's not presume what that insists.