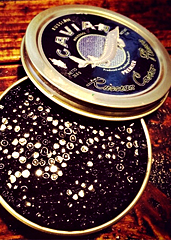 Somewhere, someone is about to throw a dinner party.
And sure, it'll be fine.
But it won't be the one you're about to throw.
The one you're about to throw is going to have black Russian sturgeon caviar that was banned in the states for the last 10 years but isn't anymore.
So...
Upgrade your stately affairs with the
Black Caviar Company
, the only US purveyor of that very particular kind of fish egg we just mentioned up there, online now.
See, there's been this on-again, off-again ban on Russian caviar imports. The United States Fish and Wildlife Service did something. Point is: ban's off. You should get some.
They harvest it in the Suda River in Russia. So that's the caviar.
As for when you'll unleash its might:
—Putting on picnic clinics.
—Anytime you feel like holding dainty silver spoons.
—Hosting the Duchess of Devonshire for afternoon tea.
—Just sort of hanging out in a hammock.
Head to the site and place your order, and the next day, it'll be at your doorstep in a gold tin wrapped in thermal packaging.
After that, consider the world your black Russian sturgeon caviar.
Way better than your oyster.