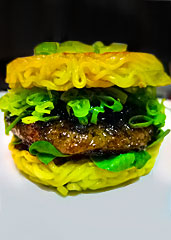 Five important facts about
Ramen Burger
:
Okay, back up. Maybe we should've started with some introductory levity or asked about your day or something. Hope everything's good.
But anyway, burgers with ramen buns necessitate some urgency, so... five important facts about
Ramen Burger
:
1. It soft-opens tonight.
Hard to imagine how a ramen burger would ever factor into your Friday nights, but you do you.
2. The burgers. They have ramen buns.
They're chef Keizo Shimamoto's original New York invention—a patty that seems to be sandwiched by two disks of compressed ramen noodles—now here permanently, too, at an unassuming K-town takeout window next to Lock & Key, that speakeasy hidden behind the wall of doorknobs.
3. About that speakeasy. They're serving the burger, too.
Somebody thought you and your friends ought to be able to order a few of these babies inside the bar with a couple rounds of
their brand-new ramen-friendly cocktails
, like a rum-based Old Fashioned. We sincerely hope that somebody got a raise.
4. Technically the menu has other stuff.
There's a sriracha-spiked ramen burger, a veggie ramen burger, a salmon ramen burger, ramen fries...
5. The burgers. They have ramen-noodle buns.
Just making sure that fact registered.