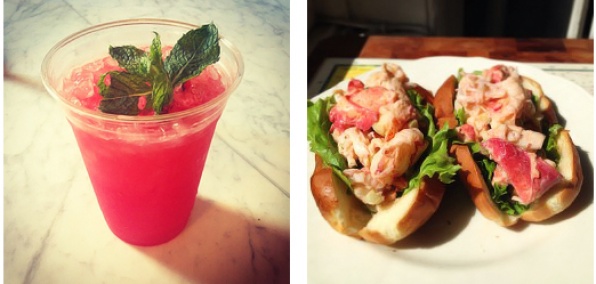 In all of life's many pursuits, there is a pinnacle.
A level of achievement where no further improvement is possible.
A "best."
Which brings us to a new lobster roll...
At
Greenpoint Fish & Lobster Co.
, a self-explanatory new joint that's open now (like... right now).
The family of one of the owners has been in the business since the '80s. Correction: the
18
80s. Took 'em a while, but they've finally created this market for enjoying their wares.
But you'll notice: Greenpoint. Real pain in the ass to get to. Herewith, five reasons why it's worth the journey:
1. The Maine-style lobster roll. It's got massive chunks of claw meat enveloped in soft, folded toast. There are others like it out there. But... not really.
2. Did we mention the roll comes in "jumbo" size? Well, it does. Do with that what you will. (And
scope out the full menu here
.)
3. The watermelon lemonade (just trust us).
4. The Baja fish tacos. Not essential, but since you're here...
5. The rare and heartwarming spectacle of a voyage on the G train.
...
Okay, four reasons.