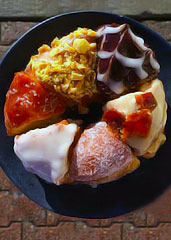 We're sorry, coffee.
You and donuts had a good thing going.
But you've got to admit... donuts and wine just seem happier together.
Witness: the
Union Square Donuts Wine & Donut Brunch
, a tasting workshop in which donuts are paired with wine and the world becomes a better place because of it, taking reservations now for its first installment on Saturday.
That's right. We said Union Square Donuts up there. Those heroic donuteers are responsible for the not-wine part of this thing, and they'll be coming in heavy with that one thing they make. You'd expect nothing less.
It all goes down at a little place called the Boston Wine School. That's where Union Square Donuts' cofounder and a certified specialist of wine will take you through six pairings of wine and donuts, like an Alsatian white with vanilla bean. Or a French cab with maple bacon (expect notes of maple... and bacon).
Afterward, you'll get to freestyle your own pairings with extra wine and extra donuts. Extra wine and extra donuts. Just wanted to say that again.
Oh, and this is the first event, but expect to see more in the fall.
Hope your fall's open.