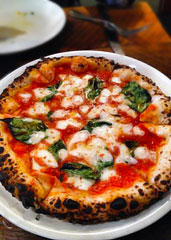 Remember yesterday?
Yesterday, if you were craving the short rib tortas from Fig, or a pizza from Sotto, or a ribeye from Jar... you'd have to get dressed and sit in traffic and eventually somehow get yourself to those places.
Ah, but today:
Today all those things come to you, thanks to
Caviar
—it's a new website that facilitates delivery from great spots, many of which never delivered before, and it has just now launched in LA.
You'll probably want to go to the website now, just to start enjoying the feeling of getting hungry, thinking of all the beautiful ways you'll soon resolve this hunger. Poke around. You'll see LA is divided into three sections—Eastside/Downtown, Central and Westside. Proceed accordingly.
What's great about this thing, aside from the obviousness of a Jar steak on your couch being great, is that you can plan a delivery ahead for, say, Saturday's cookout or Sunday's Netflix date. And there's pictures of every available menu item on the site, so you know what you're getting.
"Pie" can mean so many things.