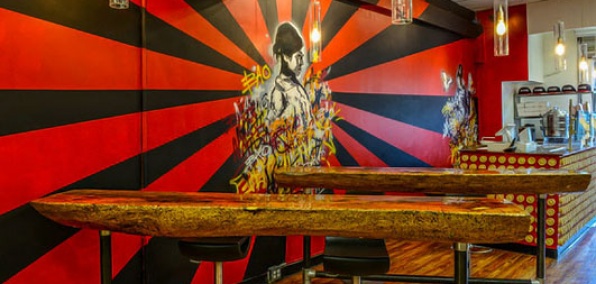 [Option_A_Left_Column]Now, there's nothing wrong with liquor stores.
They do a perfectly fine job of selling liquor.
But if someone were to build a bao joint in the back of one... well, let's just say that would make it a better liquor store.
That joint:
Bao Nation
, a new den of steamed pork buns tucked away in the back of an adult refreshments dispensary, hoping to open next week in Central Square.
Some directions: enter Libby's Liquors on Mass Ave. Start walking past all the whiskey bottles and beer fridges until you hit the part that's filled with bao instead of that other stuff.
You'll know it by all the things that don't belong in a liquor store. Like halved wormwood trunks that have been turned into tables and geisha murals covered by clouds of graffiti.
But especially by that little red counter where someone's steaming
Libby's Bao
, made with
Korean BBQ pork ribs
and fried plantain chips in a bamboo box. Order one. Eat it. Then, apply a similar course of action to the chocolate-dusted dessert bao filled with peanut brittle and applewood-smoked bacon.
And one more thing: they're planning to make deliveries to almost all of Cambridge.
No, they can't throw in a bottle of whiskey.