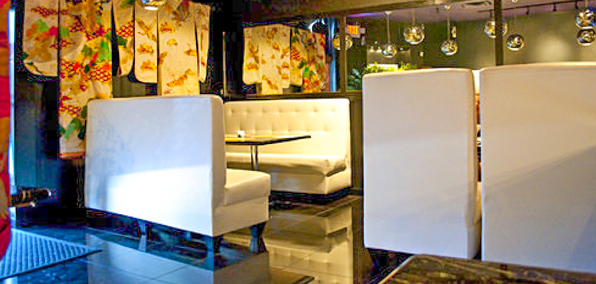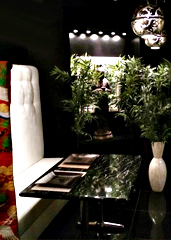 Strip malls.
God, they're nice.
Right?
They're the only places we know of these days where you can get a multicourse Japanese feast prepared by a Michelin-starred chef who used to work under Morimoto.
Oh, wait, that's just this strip mall...
Sharpen your chopsticks for
Japanese Cuisine by Omae
, a swanky, intimate, 12-seat omakase that's now soft-open for lunch in a Chinatown you-guessed-it.
This place is tiny. Like... tiny. Four tables with white banquette seating. A koi pond to your right. A monk statue to your left. Kimonos lining the walls. Point is: you're going to need reservations, because there's only one chef in charge here.
He's got two Michelin stars. He's an
Iron Chef
alum. He was Morimoto's disciple. Basically, he's not a small deal.
You'll head here when you're in the mood to not make decisions. The good chef will make those for you. Chilled triple-layered soup with a soy sauce gelée: maybe. Yuzu shrimp with deep-fried lotus roots: perhaps.
And that's just lunch. He's waiting for the liquor license to arrive before opening for dinner.
"Otherwise, what's the point."
—Most people