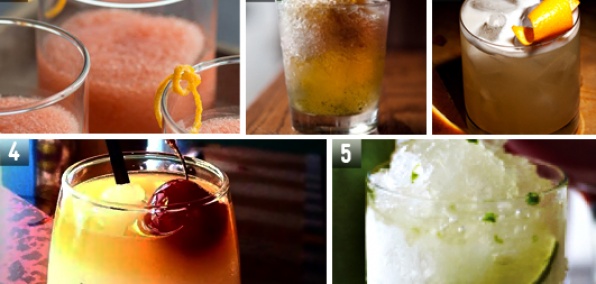 As you swam through the air this morning, perhaps you thought, "A frozen drink would be fantastic today."
And perhaps you then thought, "A frozen
classic
drink would be fantastic today. In fact, I'll do some research and see if anyone makes those, and then put together a list of the best ones."
Well, this is awkward. Because we already did that. And it's right here: a list of five frozen classic cocktails built to withstand 90-degree oppressiveness. Enjoy, then go forth and be cooled already...
1. The Snowgroni
at
The Tippler
: It's a Negroni-cum-slushy. And it's conveniently available at a dark, cool, underground bar in Chelsea.
2. The Mojito
at
The Commodore
: This blended-ice version is the logical evolution of the rum classic. Also the logical evolution for you from their fried chicken.
3. The Whiskey Sour
at
Beast of Bourbon
: Picture it: there's a searing blues guitar riff shooting up your spine, and this simple, blended beauty slides, as if on its own, to your spot at the bar. Meant to be.
4. The Frozen Dark & Stormy
at
Miss Lily's 7A
: The holy East Village mixture of Kelvin ginger slush and dark rum while you stretch your arms out over a booth in the most colorful room in town. That's this.
5. The Moscow Mule
at
The Spotted Pig
: A glass of ginger-beer-and-shaved-lime ice, with the spaces between lovingly filled in with vodka. They'll have this one ready next week.
Worth it.